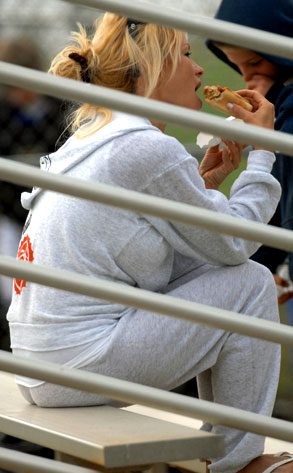 Sorry I've been a little lazy posting lately. Life has been a tad bit busy the last few weeks. I'll throw in a little veggie news to keep this blog alive until I can get back to my bread and butter...complaining about the lack of vegetarian eats at local eateries and writing about anything and everything fermented. Let's do this!
Believe it or not, Pamela Anderson is mired in a new type of controversy. This time, the former Baywatch babe is denying rumors that she was eating a hot dog at her son's baseball game. Pam claims it was nothing more than a veggie hot dog, and credits herself with getting the vendor at the games to serve veggie burgers and hot dogs along with his dead animal fare. Ultimately, this ranks second in terms of the most offensive things I have seen Pam Anderson put in her mouth, so she gets a free pass on this one.
Vegetarian ethicists are up in arms about the newest wave in carnivorous consumption--test tube meat. Scientists are developing the technology to cultivate muscle tissue in a laboratory rather than from the tried and true method of slaughterhouse production. PETA might be supporting the effort, but I'm not eating chicken whether it came from a farm or a beaker. Call me old fashioned, I guess.
Finally, it might not be vegetarian news, but The New Yorker ran a feature by D.T. Max on the cancer treatment of my favoritest chef in the whole wide world, Grant Achatz (there's also a feature in the new Chicago magazine). Achatz, the domestic auteur of molecular gastronomy, performed magically when I requested a vegetarian meal on a previous visit to his restaurant Alinea. I also ate a birthday meal at Trio when he was the chef, and the experience was equally divine. This is a great article, and Alinea is an experience that everybody should have at least once in their life (if not every day if they possess the means).