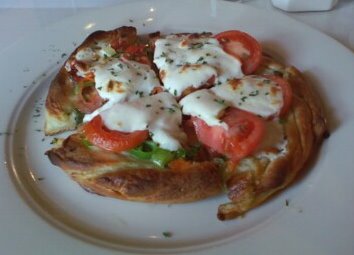 I have
previously raved
about the food at
Banana Bean
. I live within walking distance of the original location, so I go there more often than I go to the Banana Bean on Greenlawn. Now that I've discovered the Banana Bean Happy Hour, I may actually establish a permanent residence at the front table.
Some of the great features of the Happy Hour include:
$2 off the enormous sandwiches

Free chips and mango habanero salsa

$2 'Ritas and Hemingways

$1 Domestics and $3 imports
And it wasn't discounted, but the Sting Ray pizza was awesome. Fresh mozzarella, roma tomatoes, habanero peppers and lime sauce are the ingredients in a pie that is equal parts Italian and Caribbean. There is a 3-pizzas-for$20 special for those looking for discounts, too. Coupled with the drink specials, The Bean is a great way to roll up a fun dinner in a modest price range.